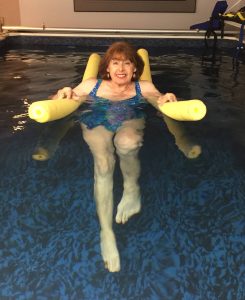 This article originally appeared in the April 2016 issue of Generations Magazine.
Many confuse rheumatoid arthritis (RA) with osteoarthritis (OA), which stems from different causes and demands a separate therapeutic program. Unlike OA, RA is an autoimmune disorder that affects any age. Onset and loss of mobility may appear almost overnight.
Sanchia Roberts awoke one morning in 1999 unable to move due to crippling pain. Since then, RA has affected almost all her joints, and her ability to walk independently. Fortunately, Sanchia discovered the benefits of aquatic therapy. "The warm water relieves my pain. My balance, flexibility, strength and confidence improved so much that now I can walk in my house without help and get up from a chair with greater ease." She surprised herself the other day, "I spilled something on the floor and I was able to pick it up!"
Patients with RA often get caught in a cycle of pain, fatigue and demotivation, leading to inactivity, which increases pain. Aquatic therapy helps break this cycle by reducing the load on joints, allowing patients to increase muscle strength and achieve aerobic conditioning. Aquatic therapy altered the way Sanchia lives her life with RA — for the better.
Tags: osteoarthritis, rheumatoid arthritis, autoimmune disorder, RA, Sanchia Roberts, aquatherapy, aquatic therapy, OA