This article originally appeared in the April 2014 issue of Generations Magazine.
More than 50 million Americans suffer from debilitating joint pain, making day-to-day living a challenge. As a result, many people choose not to undergo land-based rehabilitation, which is often times very painful. But without treatment, further joint damage, increased pain and decreased function are all very real possibilities. Luckily, aquatic therapy offers another option.
Aquatic therapy benefits:
Decreased Stress on Joints:
Water buoyancy supports body weight and reduces compression and vibration that cause pain on land.
Improved Safety:
Water provides a gentle, pain free environment for challenging activities that improve balance, strength and mobility.
Reduced Swelling:
The pressure of the water around the joints reduces swelling, which improves mobility and flexibility.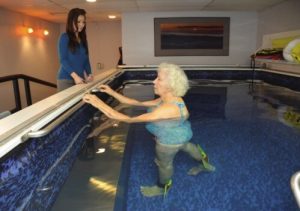 For patients with chronic pain, aquatic therapy is the gateway to independent pain management and fitness through water exercise.
Ivalee, 85, says that aqua therapy has helped her joint pain tremendously by loosening her muscles and improving her flexibility. "Water exercises are easier to do than land exercises and I'm able to increase the resistance so that when I do transition to a land program, I'll be stronger," she says. "I highly recommend aqua therapy. It is refreshing, relaxing and lots of fun."
"I highly recommend aqua therapy. It is refreshing, relaxing and lots of fun."
Tags: aquatherapy, aquatic therapy, Ivalee, joint pain